WHY JOIN PEOPLES FITNESS JOURNEY?
At Peoples Fitness Journey, we go the extra mile to help you feel comfortable. We're a gym not only for regulars, but this is the place to come if you don't know how to use the equipment. Our instructors will guide you through the process and show you how to use proper form while helping you achieve the results you want. This is about you!
"I wanted to open a gym that would help the community enjoy fitness at a reasonable price. Many people feel uncomfortable not knowing what or how to use equipment. My goal is to make people feel comfortable along their journey; no matter what., from a beginner to a heavy lifter. What I have learned in life I gladly share." ~ Kathy Peoples, Gym Owner
WHAT EQUIPMENT IS AVAILABLE AT THE GYM?
At Peoples Fitness Journey, we believe a balanced workout is necessary to achieve the best results. That's why we offer a wide variety of equipment from free weights to cardio machines and resistance machines. We have what you are looking for and if you don't know how to use it, just ask! We will show you proper form and help you achieve success.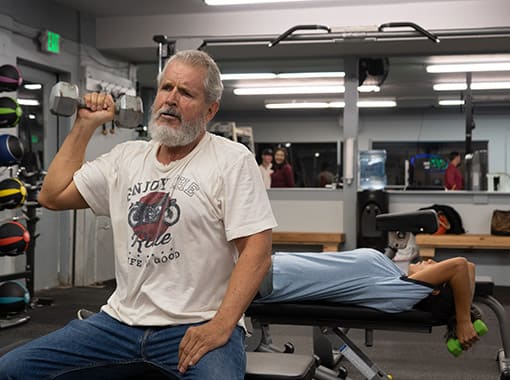 Work various muscle groups, strengthen stabilizer muscles and improve coordination with our collection of free weights.
Dumbbells
Kettlebells
Plates
Bench
Squat Rack
Dead Lift Platforms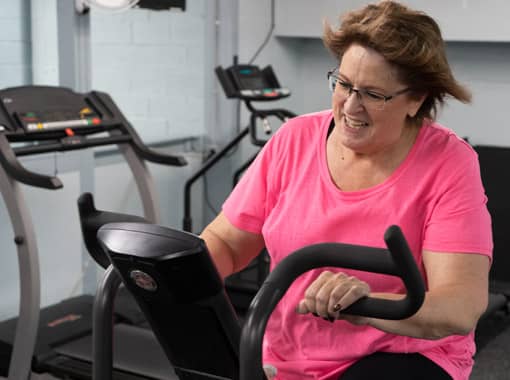 Burn calories, lose weight and work on your cardiovascular endurance and stamina with our collection of cardio machines.
Treadmills
Rowers
SkiErg
Assault Bikes
Stationary Bikes
Stair Steppers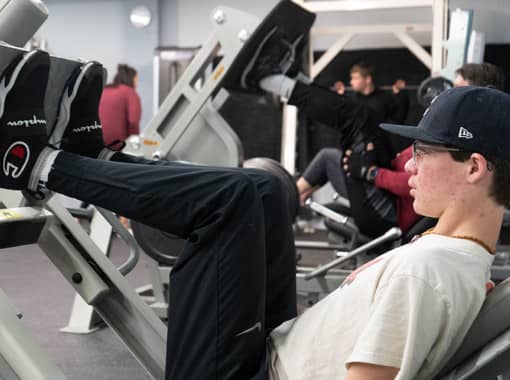 Isolate specific muscle groups, maintain tension and control every motion with our collection of resistance machines.
Smith Machine
Seated Rowers
Lat Pulldown
Rigs
Universal
Cable Crossovers
Pullup Assist
Leg Press
HEAR WHAT OUR MEMBERS ARE SAYING
"Peoples Fitness Journey has been a wonderful experience. The gym is clean and well ran by its owner. The Location is perfect to come in from anywhere and leave from there to multiple destinations after a nice workout. The helpful kind spirit is so nice and as a retiree, it's a truly wonderful fitness journey."
"I was always intimidated by going to a gym. I felt uncomfortable not knowing what to do, or how to work the machines. My husband talked me into going to PFJ and it was the best decision I made. I felt a sense of comfort knowing it was operated by another female. She was very helpful with the guidance I needed to get me going on my journey."
"Peoples Fitness Journey is a great place to go work out at you own pace with a nice variety of equipment, or you can sign up for 1-on-1 personal training. I highly recommend PFJ for your workout regimen, even if you're a beginner."
Our gym is cleaned daily and cleaning supplies can be found in multiple locations throughout the gym for easy access for all.